Adding alt text to a slide
To add alt text to a slide in your VoiceThread:
Go to the Edit page.
Click on the slide you want to describe.
Click on the pencil icon in the bottom-left corner of that slide thumbnail.
Enter your text into the "Slide description or text preview" field.
Save.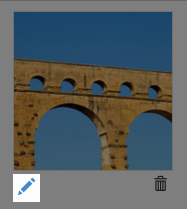 Alt text will be read by a screen reader, but it will not be visible on the page.